Welcome to the Official Site of Mai Tran

Mai Tran is an Asian-American author, model and entrepreneur from Boston, MA. Since earning her degree at Boston College, she has gone on to become one of the world's leading fitness professionals. Mai has represented a number of international sports nutrition and supplement companies and is the current spokesmodel for Cardillo Weightbelts. She still resides in Boston and spends her time traveling as well as working on her company; FitChic.
MAI TRAN
STATS
Name: Mai Tran
Home: Boston, MA
Height: 5'1″
Weight: 96 lbs.
Favorite Activity: Weight Training and anything else that is athletic, challenging, adrenaline-rushed, exciting, and fun!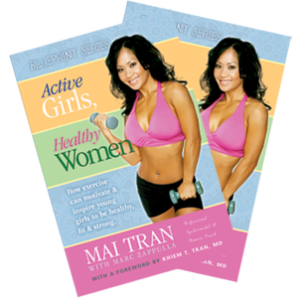 Mai Tran collides over 20 years of experience and expertise in fitness training with her first ever book, "Active Girls, Healthy Women."
"Active Girls, Healthy Women" will help the adolescent female understand the overall benefits of exercise and good nutrition, the differences between men and women and how each reacts differently to both. Moreover, the book offers a unique perspective specifically geared toward making the parent feel more comfortable introducing their daughter to the ever changing world of exercise and fitness. Over 50 training photos inside!
Latest Video
MAI ON YOUTUBE
What's New?
LATEST FROM MAI
admin
When I first sat down and started to [...]
admin
I've been inspired many times over from a [...]
Owner and Founder of

Stylish and Functional Fitness Clothing &
Supplements for the Busy Fit Chic Lifestyle